Even "The Mandalorian" Star Katee Sackhoff's Toddler Is Obsessed With Baby Yoda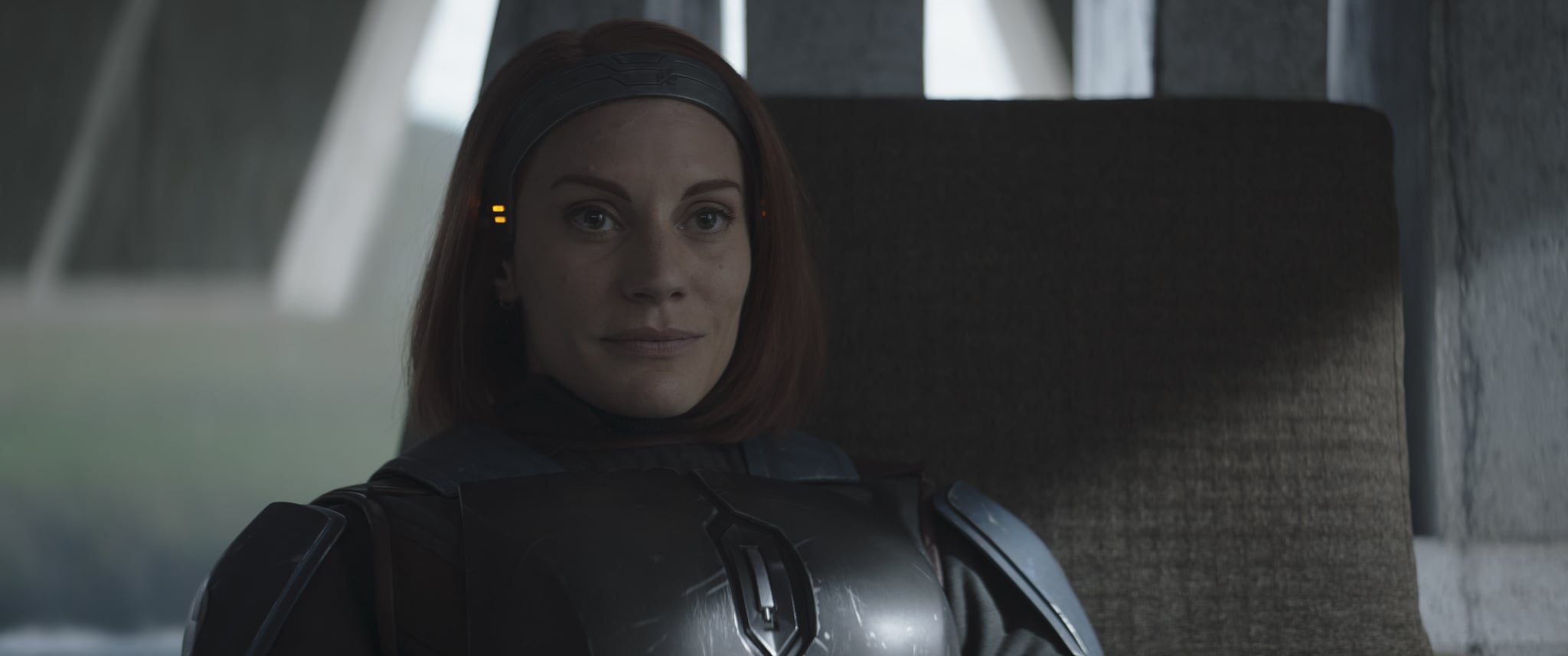 Everyone's infatuated with Baby Yoda, aka Grogu, the tiny alien creature who's being raised by "The Mandalorian"'s title hero, Din Djarin (Pedro Pascal). And that includes the toddler daughter of Katee Sackhoff, who plays Bo-Katan on the show (and in the "Clone Wars" and "Rebels" animated series). Sackhoff talks to POPSUGAR about her daughter's over-the-top love of Grogu, working with Pascal, and Bo-Katan's journey in season three.
Sackhoff shares 15-month-old Ginevra Grace with her husband, Robin Gadsby. She's a little young to start her official Star Wars viewing journey, but Sackhoff plans to show her the very first movie when she can. "But at the same time, I think she's going to watch this show. She's already obsessed with Baby Yoda," she explains. "She has a little Star Wars pop-up book because I was like, 'Well, I should start her.' So she flips through the card book, and she loves it."
"The days that I get to work with Pedro are so much fun, and I just cherish them."
But her daughter's other favorite character, she confesses, is a little more odd: the villainous Darth Maul, who made his devious debut in 1999's "The Phantom Menace." "She hugs and kisses him. It's a little unnerving," she says. "Then she flips right to Yoda and then she goes and grabs her baby Grogu doll and hugs him." Her daughter also has a Star Wars pillow with a repeating pattern of characters, and she loves to point at the creatures and identify them. "She thinks it's like the funniest thing ever. And she hugs her pillow. I'm starting her young," Sackhoff says. "She's a little blue-eyed, like, strawberry-blond-haired girl that's like obsessed with Darth Maul. It's great."
Of course, Sackhoff also loves Grogu and filming scenes with the puppet on set. "I think that working with him, number one, is amazing because working with the puppeteers is magical," she explains. "They are so incredibly gifted, and we are so lucky to have them. The way that they control Grogu brings out real emotion that you would have for an animal like a dog."
Sackhoff also praises her nonpuppet costars, including Pascal. "Pedro's amazing. I love all of the success that is coming to him. It's so nice to see," she says. "The days that I get to work with Pedro are so much fun, and I just cherish them." She adds that "The Mandalorian" is very much a team effort: Din is played by two other actors besides Pascal, and Sackhoff credits the stunt people who bring Bo-Katan to life, too. "There are a lot of amazing women that were in this suit this year that deserve credit for it," she says. "There are some phenomenal stunt work that go into this character to make her look as believable as she is." Everyone on set, she says, knows what all the others are bringing, so it's a real collaboration with "no ego involved."
Din and Bo-Katan's onscreen interactions have been heated, but they're both brought together by Grogu. "She knows he's important. She's not going to let him get hurt," Sackhoff says of Bo-Katan's relationship to Grogu. In episode two, Grogu goes to her for help after Din is captured on Mandalore. Sackhoff says Bo's rescue mission is partially because she feels guilty telling Din to travel there to begin with. "She dismissed him, and now he's in trouble. And I think that the last thing that Bo wants to be is responsible for the death of another Mandalorian," she explains.
The season three version of Bo-Katan is "a different Bo than we've seen before," Sackhoff says. "She's hit rock bottom. She's alone. She's lost everything. She has lost her people and her family and her sister and everything. And I think that she is literally reevaluating everything, every move she's ever made up to that point, that put her in the position that she's in."
This season, Sackhoff says, "She has nothing to lose. . . . She's along for the ride with Din and Grogu because she was alone and now she's not."
That leads us to the end of episode three, where Bo joins the Children of the Watch with Din, a group she's previously derided as a cult. Fans online joked that Bo-Katan probably didn't mean to join the group, but Sackhoff rejects that interpretation.
"The one thing Bo is always going to be is calculated. She's always going to check out her surroundings. She's always going to know her exit plan. She's always going to know or be thinking about what it means to stay," she says, adding that the one place Bo-Katan has to live was just destroyed. "She's nowhere to go," she says. "And these people have literally just accepted her. I mean, is the worst thing staying for dinner? I don't know. She's probably hungry."
Sackhoff is tight-lipped when it comes to spoilers, and she's had some practice thanks to her mom, who always asks what will happen next. "She doesn't like surprises, but I don't tell her anything," she says. "So she's like, 'Well, does blah, blah, blah happen?' I'm like, 'Mom, I'm not telling you.' She's like, 'Oh, Katee, I won't tell anyone.' And I was like, 'I'm not doing it because I think you're going to tell people. I'm doing it so you'll enjoy it.'"
New episodes of "The Mandalorian" stream Wednesdays on Disney+.